When Is a TV or Projector Right for Your Home Theater System?
While the Decision Yours, We're Here to Make It Easier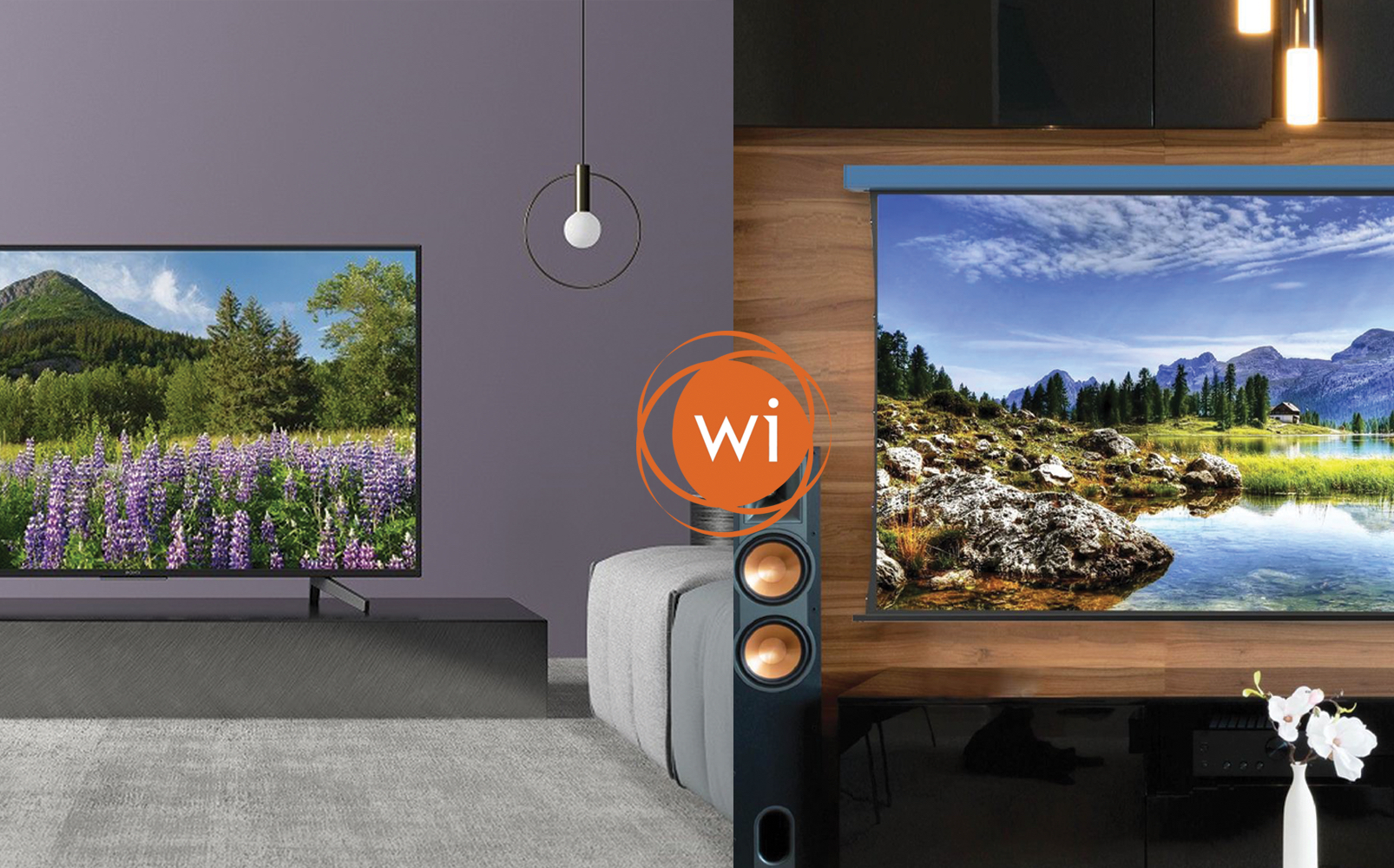 If you're building a home theater in your Scottsdale or Seattle-area house, one of the first questions you might have is whether you want to feature a TV or a projector-screen combination.
Technology advances have blurred the lines between the two solutions, making it more difficult than ever to decide which one is best for home theater systems. Because both solutions offer large, stunning picture at similar costs, the decision likely comes down to the environment in which your display will live and how you plan to use that room in your home.
For a helpful nudge in the right direction, read our tips below for when to consider each solution. Plus, get a sneak peek into one of our home theater makeovers where we upgraded a couple's audio/video system from a moderate TV display to a cutting-edge projector-screen setup.
SEE ALSO: Selecting the Perfect Home Theater Furniture
When to Consider a Projector
Think about the goal of your home theater. What kind of experience do you hope to capture with your setup? For movie buffs who want to replicate the immersive feel of the nearby cinema with true blackout capability, a nearly wall-sized screen, strategically placed furniture, acoustical treatments, and a tangible surround sound system, then a projector-screen solution is likely right for you.
Though you can find beautiful TV displays on the market that measure up to 98 inches, a projector-screen setup still wins in size, with screens available at 120 inches and up. If you want a home theater system that immerses your senses into the experience of your favorite films, you'll come closest to replicating that cinematic environment with a projector.
But what about the undeniable clarity, contrast, and brightness that comes from today's 4K TVs? Experience the same lifelike imagery in your dedicated home theater with a 4K HDR projector from Sony that delivers unsurpassed eye-popping color and spectacular brightness to take you right inside your favorite movie. Pair this with revolutionary ALR (ambient light rejection sceeen from Screen Innovations and you bring the cinema to the comforts of home, regardless of how dark you can make your space.
Using proprietary 4K SXRD™ panel and Reality Creation technologies, Sony's 4K projectors will always display the highest-possible contract ratio to bring beautiful, cinematic picture to your home. In a dedicated home theater that allows for complete light control and isolation from the rest of your property, you'll receive the biggest bang for your buck with a projector-screen setup.
When to Consider a TV
Not everyone has the same goal for their home theater setup. Instead, some desire a multi-purpose theater room designed for more than just movie viewing. If your home theater system will be in an area exposed to windows and other spaces, then a TV may be the better choice for you.
Though projectors have largely improved in brightness, TV displays still emit much brighter light than projectors, which can help overcome ambient light that will inevitably spill into your space from windows or other rooms. You can still control sunlight with blackout drapes and shades, but a TV allows for better daytime viewing and may be easier to blend in with your interior design when you're not using it for a movie night.
Sony's Master Series televisions are a perfect solution for home theater systems with 4K viewing that offers unprecedented contrast, color, and realism to your favorite movie or show. With their largest upcoming model at a whopping 98 inches, you can still recreate the cinematic fun without a projector-screen setup. No matter the model size you choose, you'll always experience dazzling picture, smooth motion, immersive sound, and intense realism for true-to-life entertainment.
You should never settle when selecting the equipment for your home theater setup, and with Sony's latest 4K solutions, you won't be.
Home Theater Makeover by Wipliance
Our award-winning team has designed, installed, and upgraded countless home theaters from Seattle to Scottdale, and we're here to do the same for you. Below, get a sneak peek into one of our latest home theater makeovers in Arizona, where we transformed a couple's poolside man cave with an immersive, cutting-edge projector-screen setup.

Even with our considerations, we know every application is unique. Let us help you pick the perfect projector or TV for your theater. For more information on how to get started, contact our team by clicking here, or send us a live chat below. We look forward to assisting you!

No video selected.