Explore the Subtle Elegance of Palladiom Keypads by Lutron
Elevate the Way You Control Your Smart Home Lighting System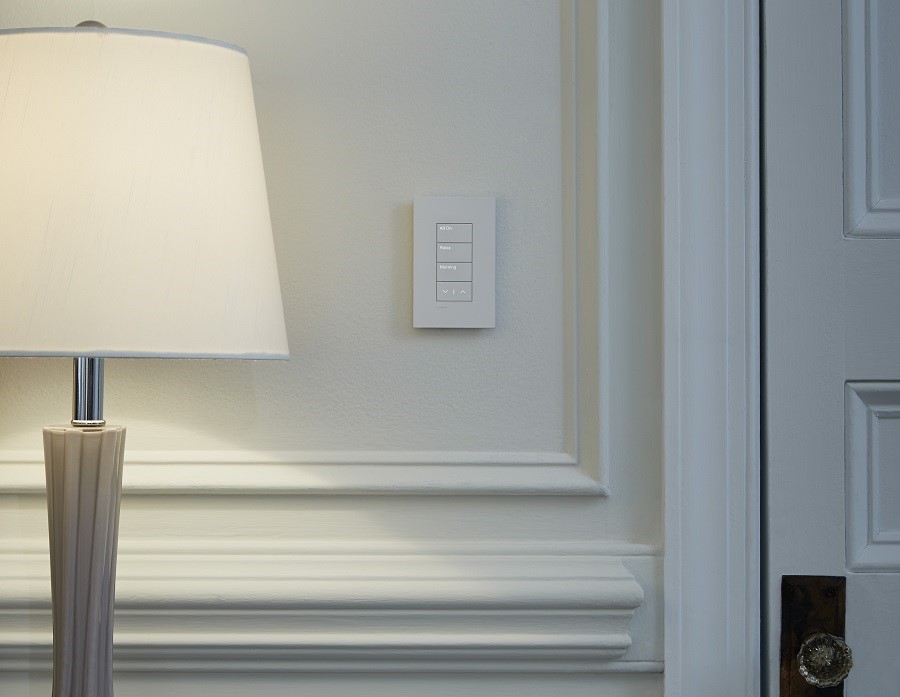 A smart lighting system does a lot for you and your property. Beyond adding beauty to your spaces, improving security measures, and creating the perfect lighting for every task, smart lighting control also does away with tacky, one-to-one light switches that clutter your walls and detract from the beauty of your home.
Admittedly, in-wall light controls serve a useful purpose. It's not always convenient to get out your smartphone to adjust the lights in each room you walk into. So, how can you eliminate tacky, cluttered switches while maintaining the convenience of in-wall controls? Elegant Palladiom QS wall stations by Lutron are your answer. Keep reading to learn how in-wall Palladiom keypads are an ideal way to intuitively control the lighting in your Phoenix, Arizona home while also maintaining your home's aesthetic.
SEE ALSO: Everything You Need to Know About Lutron's Palladiom Shades
Choose from a Variety of Stunning Colors and Finishes
Each one of Lutron's hardwired Palladiom wall stations come in a variety of high-quality finishes, from metal and matte to glass. Say goodbye to the traditional, boring plastic switches and upgrade to a beautiful finish that complements the elegance of your home décor.
Select from a broad range of colors as well, from several different shades of white, chrome, nickel, polished graphite, and transparent black or white glass. Want a pop of color? Choose a light metal finish for your dark walls. Or keep it discreet by selecting a color and finish that perfectly blend in with your walls instead.
Every wall station can be installed either flush with your surfaces or atop your surfaces for extra texture and added flair. Whether you decide on the square or rectangular wall-plate style, each is perfectly designed to combine sleek, minimalistic style with intuitive lighting control.
Designed for Easy-to-Understand Control
The Palladiom keypads are just as easy to use as they are beautiful to admire. Not only are the buttons large in surface area for fast touch-and-go control, but they can be custom-engraved and even come with backlighting for easy operation in low-light conditions.
Choose from a variety of button arrangements, whether a single or dual column of two, three, or four buttons that all offer satisfying tactile feedback when pressed. Command one button to turn all lights off, one to turn them all on, and one to dim them. Simply engrave the words "all off," "all on," and "dim" to make operation simple and intuitive. Even add two up-down arrow buttons to adjust the brightness of your lighting—all from the same Palladiom keypad.
Extend the Beauty of Palladiom to Shades and Thermostats
Palladiom QS wall stations combine elegant design with intuitive operation for lighting, but that's not all. Palladiom wall stations are also available for the control of motorized window treatments and thermostats so homeowners can enjoy the cohesive look of Palladiom wall stations for all their in-wall keypads.

Whether you'd like separate keypads for lighting, shades, and thermostat control or prefer a centralized keypad that offers combined control of all three functions across multiple zones, it's all possible with Palladiom QS wall stations. Palladiom reduces the number of in-wall keypads around your home by combining the control of multiple smart home functions into one wall station for multiple zones around your home. Add buttons for scenes, raising and lowering of shades, dimming and brightening of lights, setting eco-friendly temperatures, and much more. The choices are up to you.

Ready to learn more about Lutron's luxury line of Palladiom QS wall stations? Or maybe you're interested in upgrading your current lighting system to something a little smarter. Our team at Wipliance is ready to help. Contact us today to get started! We're excited to hear from you.

No video selected.