How to Make the Most of Staying Home with Control4
Reimagine Home Entertainment and Security with Smart Home Automation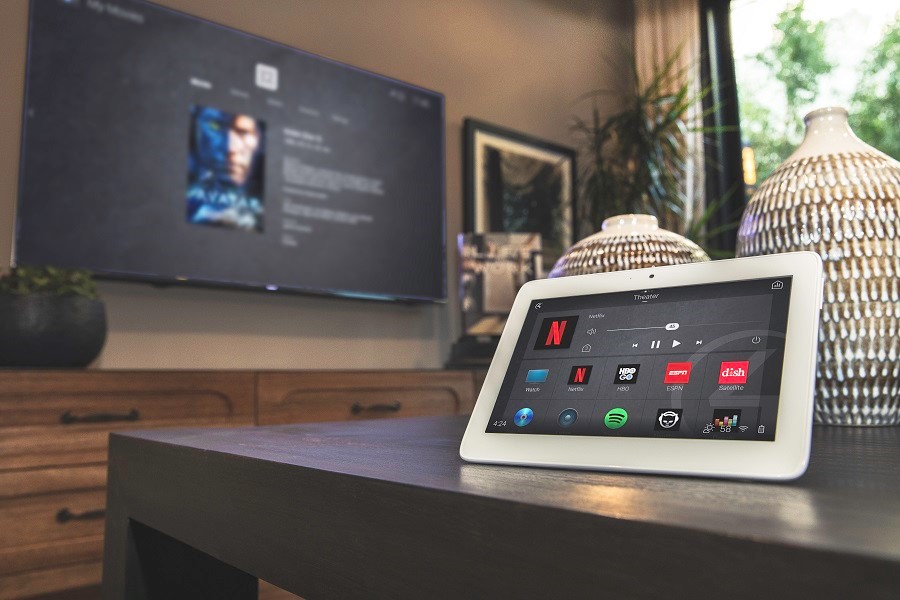 For weeks now, health experts and government officials have advised us to stay home as much as possible to help slow the spread of the coronavirus. While these stay-at-home orders will eventually be lifted in Scottsdale, AZ and around the country, regular outings will happen slowly and with precaution.
In other words, you and your family will still be spending more time at home in the coming weeks. To that end, we want to help you make the most of your time indoors. Below are a few Control4 home automation tips that will make staying home more fun and stress-free amid challenging times.
SEE ALSO: Enjoy Your Home Audio with the Neeo Remote from Control4
Set the Scene for Movie Night
Even while home together, you may find that your family is often split up in different parts of the house on their smartphones or tablets. With Control4 home automation, you can bring everyone together by quickly setting the scene for a night of movies—all from a single control device.
Control4 OS 3 Favorites makes it easy to get to your most-used scenes and apps and quickly start movie night. Use your smartphone, Control4 touch screen, or Neeo remote to find your preferred light settings and home entertainment apps like Netflix or Hulu. Have a "Movie" scene that dims the lights, adjusts the shades, and starts your favorite application? You can access that scene too in just a tap.
Host a Family Dance Party with Multi-Room Audio
Another great way to spark some fun at home is with music. Studies show that playing music and singing together can be potent in bringing about social closeness through the release of endorphins. Control4 multi-room music makes it easy for the whole family to stream tunes in any room with one touch.
Use your Control4 device of choice to browse and select a playlist from the world's most popular music services. You can even use voice control by telling Alexa what you want to hear and where. Instantly fill the house with sound using quick and natural commands.
Better yet, Control4 OS 3 gives you more options to listen to high-resolution audio with native support of MQA (Master Quality Authenticated). Bring the highest-quality audio experience to your home through streaming services like TIDAL and enjoy music the way artists intended for it to be heard.
Feel Safer with Instant Access to Locks and Cameras
Control4 not only elevates the fun at home—it also helps improve your peace of mind with quick access to smart locks, cameras, and alarm systems. With Control4, never wonder if your front door is unlocked or garage door is open when you go to sleep at night.
At-a-glance views on the Control4 app shows the status of your vital smart home devices, from your door locks and surveillance cameras to your alarm system, fans, lights, and more. With just a touch, you can lock doors and arm your alarm system from the comfort of your bed. Control4 can even alert you of unsecured entries or lock up your home automatically at a specified time.
Wipliance is here to assist you during these unprecedented times. To learn more about how Control4 can make indoor living a little more fun and stress-free now and in the future, contact our team today. We're still serving our Arizona customers while following recommended safety guidelines.