Which Voice Control Platform Works Best with Your Smart Home?
Learn How Amazon Alexa, Apple HomeKit & Google Assistant Integrate with Your Control4 System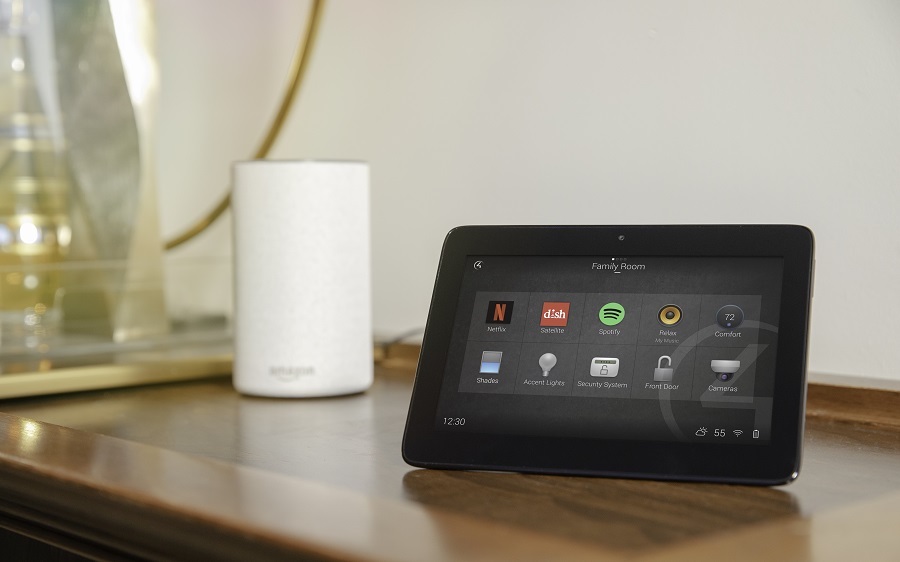 There's a reason Control4 is a leading global provider of home automation systems: not only does their system integrate with more than 13,000 devices, but their platform is more intuitive and customizable than ever. Just pick up your smart controller of choice and personalize your Bellevue, Washington-area home in a few taps.
However, sometimes even one-touch control of your home can be inconvenient when you're walking into a dark house after work or have your arms full of groceries. That's where home voice control can lend a helping hand. But which platform works best with Control4? As a local Control4 dealer with locations in Bellevue, Washington and Scottsdale, Arizona, we're here to help. Below, we'll discuss how Amazon Alexa, Google Assistant, and Apple HomeKit integrate with Control4 to help you decide which is best for you.
SEE ALSO: 5 Features of the New Control4 Smart Home OS3 You Will Love

Amazon Alexa
If you own an Amazon Alexa device such as an Echo, Amazon Tap, or Fire TV with Voice Remote, then you're just a few easy steps away from hands-free home control. All that's required other than a Control4 smart home system and an Amazon Alexa device is a Control4 4Sight subscription, which enables voice command support and even lets you edit and add voice commands for personalized hands-free control.
With Amazon Alexa, command complex scenes, dim lights to a certain percentage, control your home's security system and multi-room AV system, and even turn off your entire house. Right out of the box, Control4 homeowners can use Amazon Alexa voice control for the devices and scenes they already have set up on their system—without the need for any new programming. Just add the Control4 Smart Home Skill in your Amazon Alexa app, authenticate with Control4, discover devices, and you're on your way.
Control4's When>>Then personalization platform makes it easy to create or add new events and scenes that you can control with your voice, but our team at Wipliance is always here to help if you need assistance with creating complex scenes or connecting your Alexa devices to your Control4 system.
Apple HomeKit
While Alexa is certainly an easy choice for hands-free control, we know there are plenty of devoted Apple fans who would like to be able to control their smart home with the Apple HomeKit ecosystem and Siri instead. Though an Apple integration with Control4 isn't direct, controlling your home with Siri devices is possible with the Homebridge driver from Varietas Software.
Homebridge is an open source software package you can run on your home network that emulates Apple's HomeKit hardware protocol. Because Siri supports all devices added through Apple HomeKit, you can use Siri to command your Control4 smart home after installing the driver.
Once you've integrated your Control4 system with the Apple HomeKit ecosystem via the Homebridge driver, you can control your lights, door locks, fans, garage, thermostats, and more. Though it takes some extensive programming, you can control existing scenes with Siri as well. However, it's important to note that the Homebridge driver does not yet support motorized window treatments, and security system commands are limited as well.
Google Assistant
Like Apple HomeKit, Google Assistant voice control products like Google Home and Google Pixel can work with your Control4 smart home, but only through a third-party driver. In this case, you need to download the Chowmain IFTTT driver for Control4 integration.
With IFTTT Control4 integration, you can tell Google Assistant to set your thermostats to a specific temperature, dim your lights to a certain level, select a channel on your TV, command existing scenes, and even turn off your entire home.
However, there's a catch: Google recently announced that it will discontinue its IFTTT service on August 31 as it places a new focus on privacy and security for its smart home devices. As a result, the Chowmain IFTTT driver will no longer be available for Control4 integration.
But don't worry! In response to Google's redirection to the new "Works with Google Assistant" program, Control4 said it will start developing new drivers in cooperation with Google's Certification standards that will allow Control4 devices to continue operating uninterrupted.
When an updated driver becomes available, you can contact our team to help you with the installation and integration to ensure you get the most out of your Control4 home and Google Assistant devices.
Which Is Best?
So, which voice control platform is best for your home? The answer is really up to you. Control4 is deeply committed to fostering a large ecosystem of support for third-party devices, including products from Amazon, Google, and Apple. Though Amazon Alexa is directly integrated with Control4, that doesn't mean Google Assistant and Apple HomeKit are out of the question.

No matter the virtual assistant you prefer, our team at Wipliance can help integrate your voice control devices with your Control4 smart home. To get started or to learn more about commanding your Control4 smart home by voice, reach out to us by filling out our online contact form or sending us a live chat below. We look forward to assisting you!

No video selected.