8 Ways to Protect Your Home During Your Next Vacation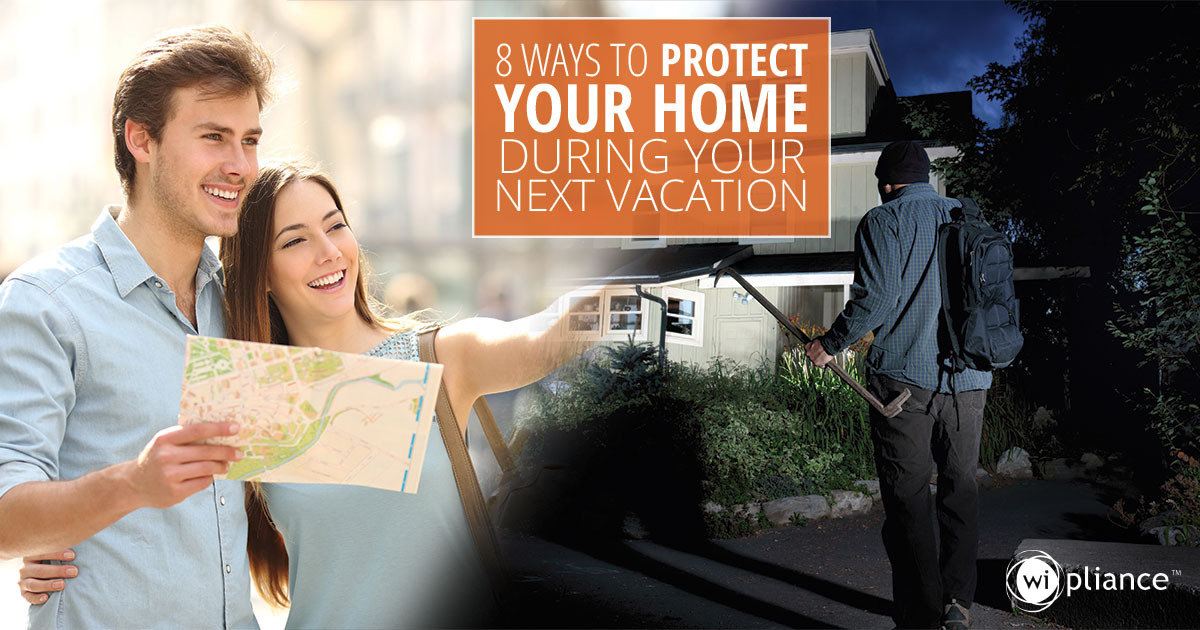 Everyone loves a good vacation... taking a break from the daily grind and getting away to relax with our loved ones is something we all deserve. While vacations can be therapeutic, it's hard for us to unwind if we spend our time worrying about the security of our belongings back home. At Wipliance, we want you to feel safe and secure, whether you live in Seattle, Bellevue, Kirkland, WA or in Scottsdale, AZ, or in any other surrounding areas. We've put together a list of 8 ways to protect your home while you're on your next vacation.
1. Advertise Your Security
The more obvious and apparent your home's security measures, the better. In many cases, burglars go for the easiest targets, so add obstacles or signage to your home to encourage your neighborhood thieves to move on to a less challenging mark. Motion sensing lights and other early warnings of security systems work great for keeping burglars away. Even a lawn sign or a window sticker with a home security company's logo can be enough of a hindrance to potential thieves.
2. Invest In Security Cameras
Equipping your property with security cameras is another added level of protection and criminal deterrent. Wipliance installs cameras that notify you via your smartphone when any unusual activity around your home is detected. These camera systems can stream live feeds from your security cameras onto your smartphone, tablet or computer to give you complete peace of mind wherever you are. These cameras capture all the footage directly onto a network video recorder, meaning it records all the video in digital format and stores it on a device. If an incident does occur, you're able to catch the crime on film and increase the likelihood of retrieving your belongings.
3. Create the Deception of Someone Home
Remember that classic scene from Home Alone where Macaulay Culkin knows that crooks are staking out his house, so he stages a phony Christmas party using moving cardboard cutouts and mannequins, making it look like there's people home partying? You don't have to go quite that far, but you can still create the illusion of an occupied home. Little measures such as timers for your interior and exterior house lights, set to automatically turn on and off throughout the day do a wonderful job of confusing potential prowlers.
If you anticipate an extended vacation, arrange a neighbor kid to mow your lawn once a week, or have the snow shoveled from the driveway if it's winter time. Have your hedges trimmed and sidewalks swept regularly, too. If you can, park a car in the driveway. All these details keep up the image of someone being home and that your house isn't an easy target.
4. Home Automation
Home automation can be one of the best ways to create the appearance of a populated home. With automation, you can easily set your appliances to simulate regular activity, such as lights scheduled to illuminate parts of your house at different times, or window curtains that open and close themselves each day. At Wipliance, we specialize in home automation installations. We use leading brands such as Control4 and RTI that put you in complete command of your home's functions. Control things such as your lighting, security system, window blinds and more with the touch of your smartphone. You can double check that your doors are locked, turn lights on and off at will, and even control the TV to keep your dog company, all from virtually anywhere you are. If you're looking for extra home automation security with our services, contact us, here.
5. Checking The Mail
Living in today's digital age, hand delivered mail is almost obsolete, making it an easy thing to neglect while on vacation. A huge pile of mail on the front doorstep or an overflowing mailbox is a pretty solid indicator that no one's been home for a few days. If you anticipate being out of town for some time, place a hold on your mail at the post office and with your local newspaper, or have a neighbor collect your mail for you so it doesn't accumulate and attract crooks.
6. Manage Your Social Media
Keep any online vacation announcements to yourself until you get back home. You never know who can access your social media profile information, find out when you'll be away and exploit your vacant home.
7. Your Neighbors Are Your Friends
Before you leave town, let your neighbors know the dates that you'll be gone. They'll be able to keep watch on your house if there's any unusual activity. Also, make sure to give them your contact information when you're away so they can get in touch with you if they notice any suspicious behavior.
8. Alarm System
A reliable alarm system is a surefire investment to keep your home safe. At Wipliance, we install wireless and hardwired alarms paired with 24/7 monitoring services from our top-rated, trustworthy sources such as alarm.com, alarm security inc., and others.
If you're interested in increasing the protection of your Bellevue, Kirkland, or Seattle, WA, home, Wipliance specializes in home security system installations and home automation. Visit our Residential Security page and check out our previous work or contact us with any questions or inquiries.